We follow the DepEd prescribed K-12 Basic Education Curriculum across all levels, enhanced with interactive hands-on activities to maximize learning while integrating the tenets of the whole Scripture intentionally in every academic curriculum. We initialize an eclectic approach to teaching. We are a traditional school as we utilize pen and paper tests, giving importance to the requirements and demands of our society and incorporate the mandates of Scripture. We are progressive as we give due regard to our students' unique needs as well in giving importance to the learning and thinking processes.
Primary Level – Nursery, Kinder, Grades 1 and 2
Intermediate Level – Grades 3 to 6
Junior High School Level – Grades 7 to 10
Senior High School Level – Grades 11 and 12
Strands: Accountancy, Business, & Management (ABM), Humanities & Social Sciences (HUMSS), and Science, Technology, Engineering, & Mathematics (STEM)
ACADEMIC PROGRAMS
GRADE SCHOOL DEPARTMENT
This department includes the Primary and Intermediate levels. The Primary level is from Nursery until Grade 2 and is regarded as the formative years of developing healthy attitude towards learning as well as developing proper behaviors, habits, values, and attitudes that children carry with them the rest of their lives.
The Intermediate level is from Grades 3 to 6 and is regarded as the foundational years for developing academic competencies, refining skills, and learning important concepts needed for higher learning. The spiral progression approach is used wherein previous learning is revisited with increasing complexities and reinforcements added at each succeeding level. These levels follow the prescribed K-12 curriculum of the DepEd. Discovery and hands-on learning, research work, and laboratory experiments are highlighted in the different subject areas and are intentionally designed where concepts are integrated to harness optimum learning.
PRIMARY LEVEL
1. NURSERY
This level touches on the critical periods of development for children aged 3-4 years old. Classes use the thematic approach that integrates all subject areas under one theme per quarter using developmentally appropriate experiential learning. Activities cover the subject areas of phonics, numeracy, science, music, arts, and movement. Quarterly assessments use anecdotal reports and portfolios to record the learner's holistic development.
2. KINDERGARTEN
Kindergarten is the first stage of compulsory and mandatory formal education starting at the age of 5 years to sufficiently prepare the learners for Grade 1. It is anchored on the principles of developmentally appropriate practices which immerses the learners in meaningful experiences through engaging in play-based and child-centered activities as stated in the Omnibus Policy on Kindergarten Education (DO 47, s2016). Learners are evaluated following a qualitative grading system that marks whether the Early Childhood Care and Development (ECCD) checklist or the required learning competencies met.
3. GRADES 1 AND 2
Grades 1 and 2 are transition years from the Preschool cluster to the Intermediate level. It continues some of the routines and activities of the Preschool while having the same formal schedule and subjects as the Intermediate level using the prescribed K-12 curriculum of the DepEd.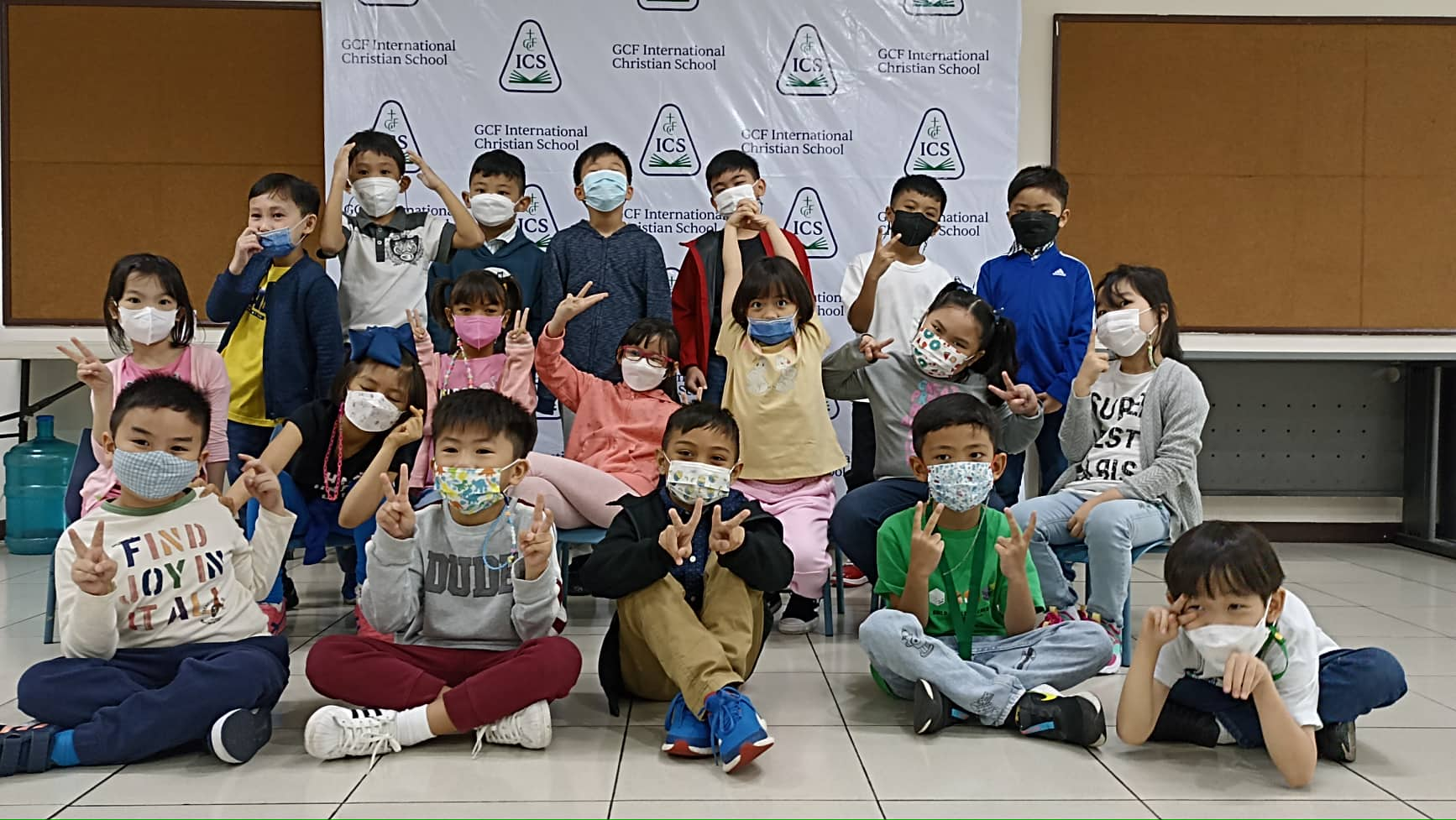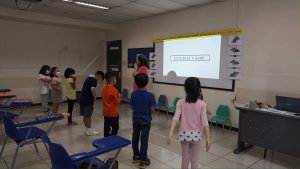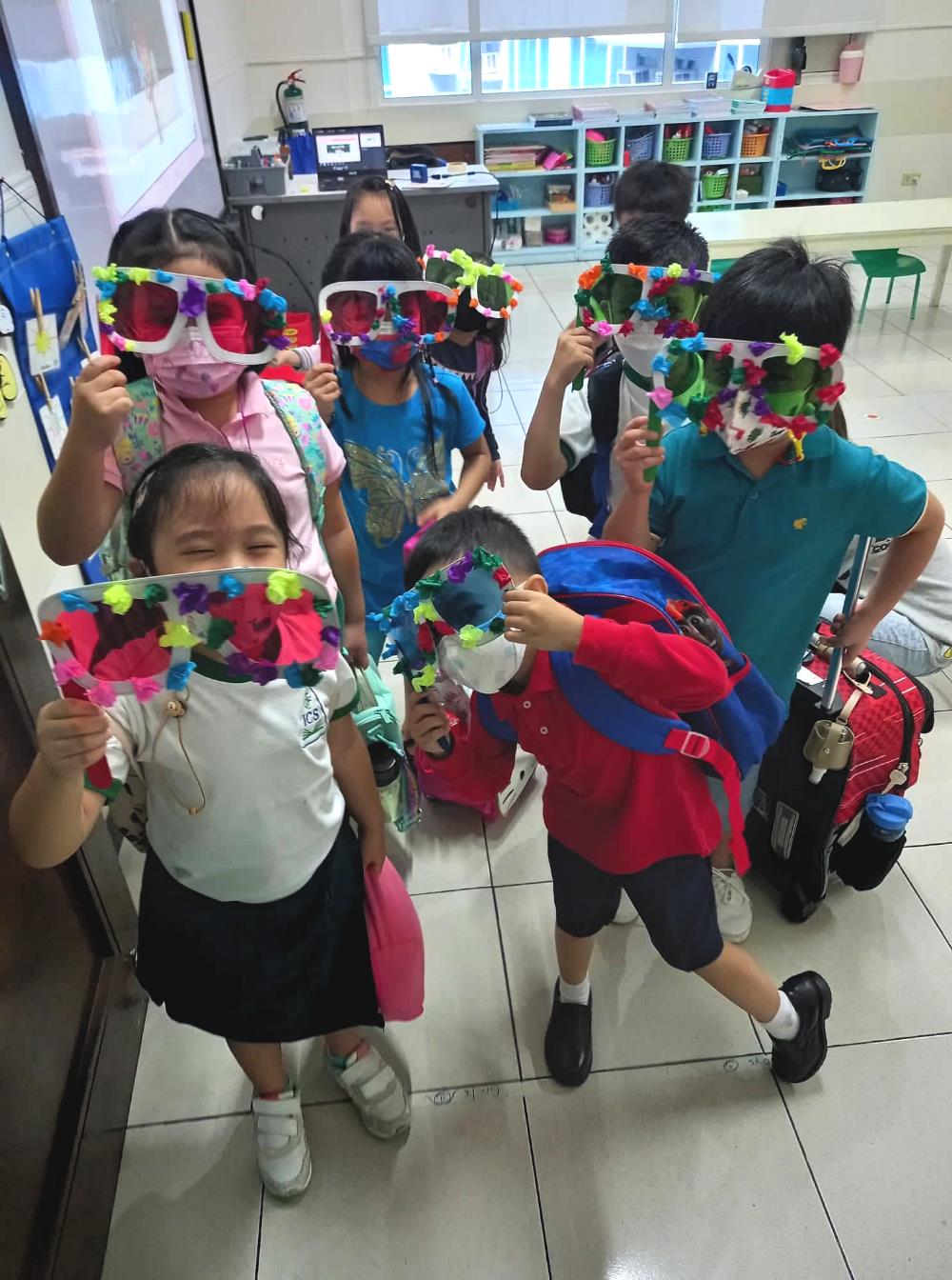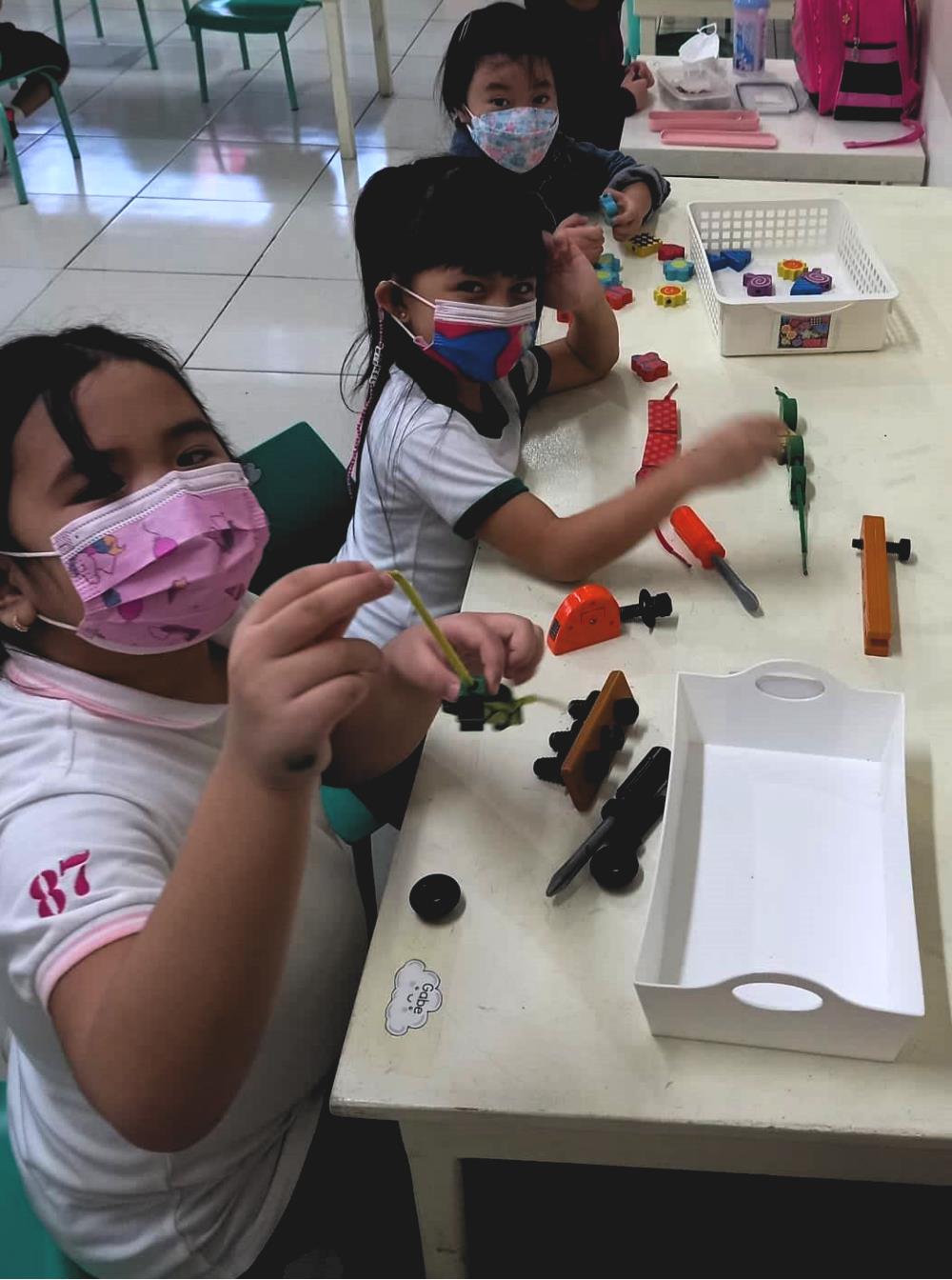 INTERMEDIATE LEVEL
Grades 3 to 6 comprise the Intermediate level. These levels follow the prescribed K-12 curriculum of the DepEd.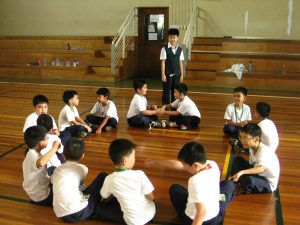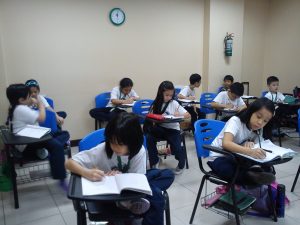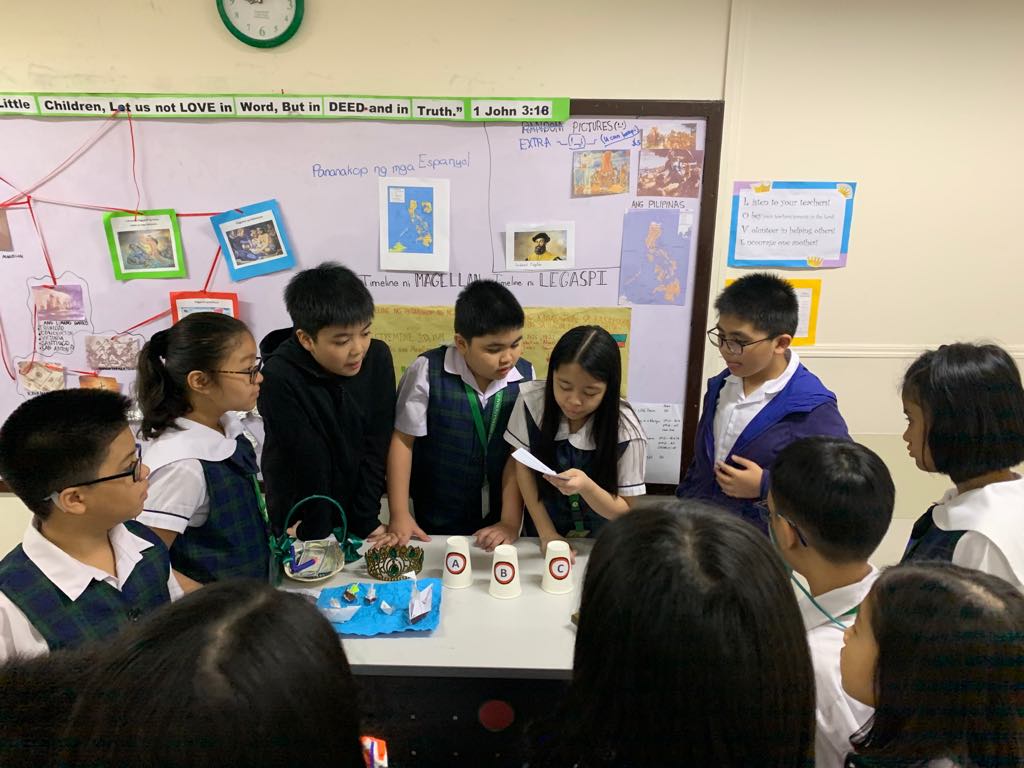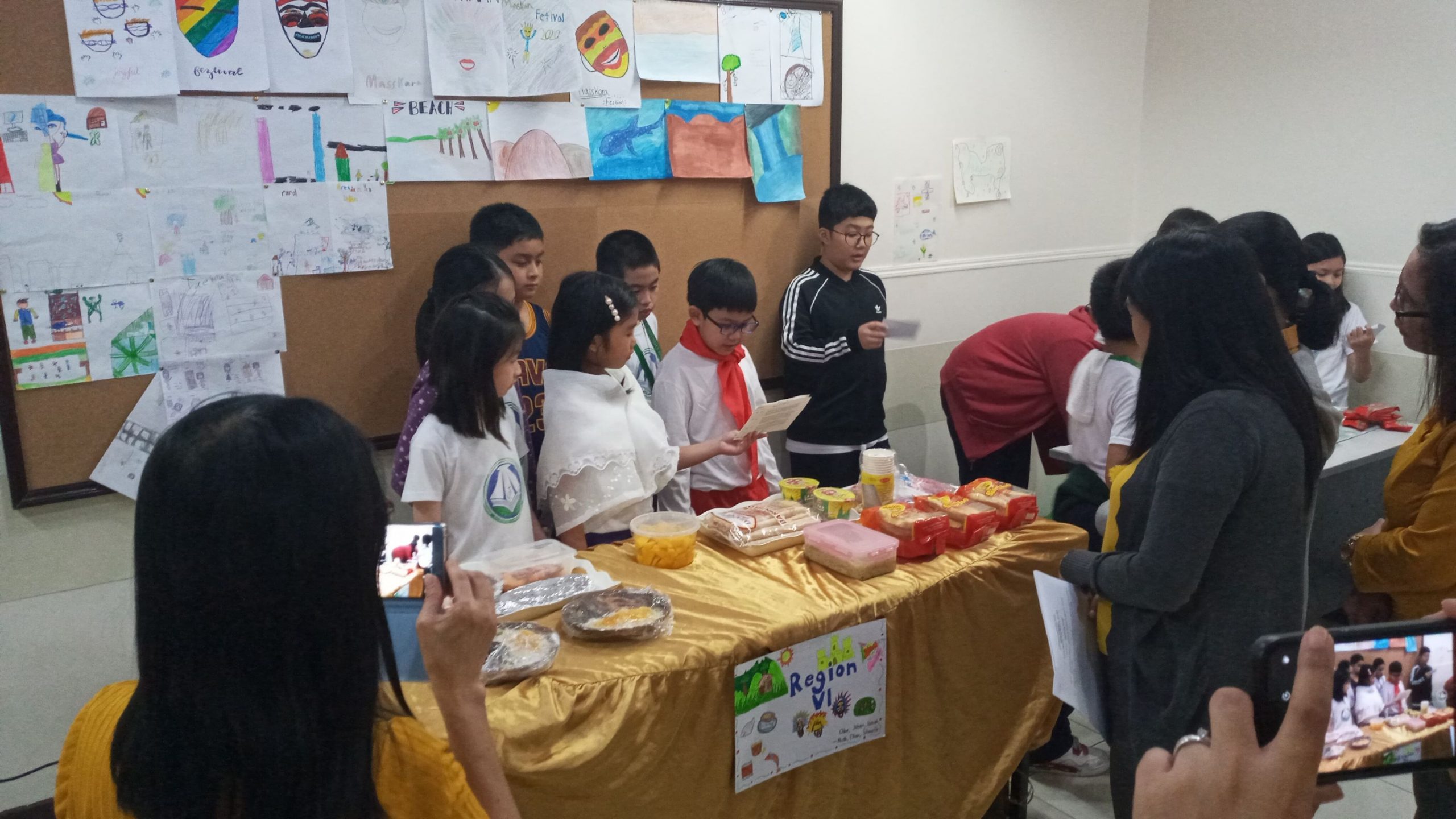 DESCRIPTION OF ACADEMIC SUBJECTS
1. SCIENCE
Science is taught as a springboard in expounding the Word of God in matters related to the creation of the world, the divine purpose of the human body, and the stewardship of all things created. Through discovery learning and experimentation, the science curriculum aims to develop learners who can think critically, morally, and responsibly in the application of scientific knowledge.
2. ENGLISH
Language is the basic tool in learning and the most efficient way of communicating. The subject aims to develop in learners the ability to achieve communication goals in a socially appropriate manner in writing, and in verbal and non-verbal means. The reading of story books, classical and modern literature, and relevant multimedia information help develop critical literacy and are used as springboards for enhancing proper writing conventions, such as: spelling, punctuation, capitalization, grammar, and sentence structure. Through interactive and collaborative learning, learners grow in their language skills and are encouraged to use their knowledge to become responsible members of society.
3. MATH
The emphasis of mathematics is to develop in learners critical thinking and problem-solving skills. The topics increase in complexity and are reinforced at each succeeding level in a spiral progression. The Concrete Pictorial-Abstract (CPA) approach is used to teach the contents of mathematics which include: number and number sense, measurement, geometry, patterns and algebra, statistics and probability. The CPA approach uses physical and visual manipulatives that build understanding of abstract concepts in a deeper and longer lasting way.
4. ARALING PANLIPUNAN and SPECIAL SOCIAL STUDIES
Araling Panlipunan and Special Social Studies Araling Panlipunan is the study of the key concepts of civics, society, culture, geography, governance and nationalism, as well as key figures in Philippine History. The subject aims to help mold students to become responsible citizens who are critical thinkers, contemplative, productive, environment friendly, patriotic, respectful of diversity in culture, and develop a global perspective on social issues and challenges of the future (DepEd K-12 Curriculum Guide, 2016). The concentric approach is used starting from the most basic unit of society—the family and its immediate community—and widens its scope at each succeeding level. The various concepts are taught according to the learners' developmental level.
Special Social Studies was developed primarily for foreign students that use English as a medium of instruction. This subject aims to introduce and expose foreign learners to aspects of Philippine society such as, civics, geography, history, and government, in order to help them understand and appreciate the culture of the country in the hopes of adapting and thriving as foreign residents. Special Social Studies is a combined class and the topics cover the same content as Araling Panlipunan.
5. FILIPINO
Ang saklaw ng pagtuturo ng asignaturang Filipino ay maikintal ang kahalagahan nang wastong paggamit ng wikang Filipino pasulat man o pasalita. Malinang ang yaman ng kultura, tradisyon, at kaugaliang Filipino sa pamamagitan ng pag-aaral ng mga pampanitakang Pilipino Klasiko man o Moderno. Mapayaman ang mga makrong kasanayan sa pagsulat, pagsasalita, pakikinig, pagbabasa, at panonood gamit ang mga makapabagong teknolohiya sa pagtuturo at pampagkatuto.
The aim of teaching the Filipino subject is to inculcate in the students the importance and value of using the Filipino Language in both written and oral mediums. Students are encouraged to cultivate the rich culture, tradition, and Filipino customs by studying the classic and modern Filipino literature. The subject further aims to enrich the five macro skills: writing, speaking, listening, and reading using the modern technology in teaching and in learning. Foreign students, take a combined Special Filipino class that is taught in alternating English and Filipino that is appropriate for the learners' skills level.
6. MOTHER TONGUE
Mother Tongue is a program that aims to strengthen the use of the language in areas of reading, writing, listening, and speaking using the communicative approach. This  approach is based on the idea that learning language successfully comes through communicating in a context that reflects real life situations. Its reinforcement includes the appreciation of the culture, values, people, and history of the country. Mother Tongue is taught and assessed across the subject areas of Filipino, Araling Panlipunan, Reading, and Language from Grades 1 to 3.
HIGH SCHOOL DEPARTMENT
The High School Department consists of the Junior High and Senior High levels. The Junior High level is from Grade 7 to Grade 10, while the Senior High level includes the Grades 11 and 12. These levels follow the prescribed K-12 curriculum of the Department of Education (DepEd).
JUNIOR HIGH SCHOOL LEVEL (Grades 7, 8, 9 and 10)
The Junior High School Level follows a spiral progression approach where students are exposed to various topics, concepts, structures, and principles of respective identified
disciplines across levels with the end goal of mastery. This is achieved by learning the topics or concepts repeatedly across levels with varying complexities appropriate to the age group. Programs, projects, and activities are designed and/or utilized to teach concepts and principles across disciplines integratively. The subjects in Junior High School include English, Filipino, Math, Science, History, Music, Art, Physical Education (PE), Health, Home Economics and Livelihood Education (HELE), and Christian Living (CL)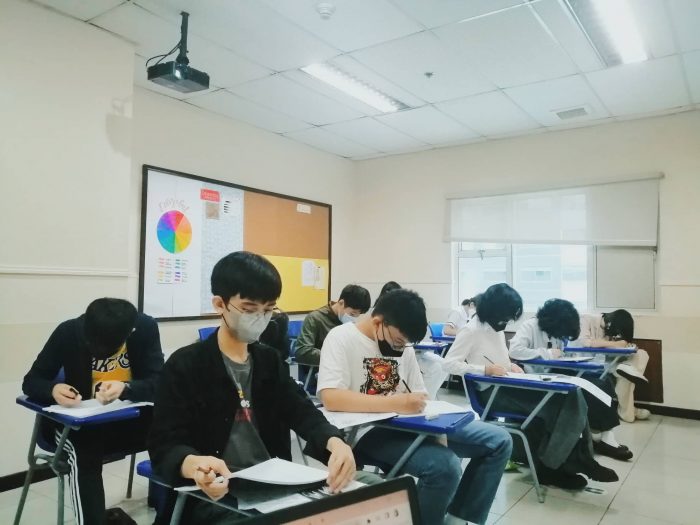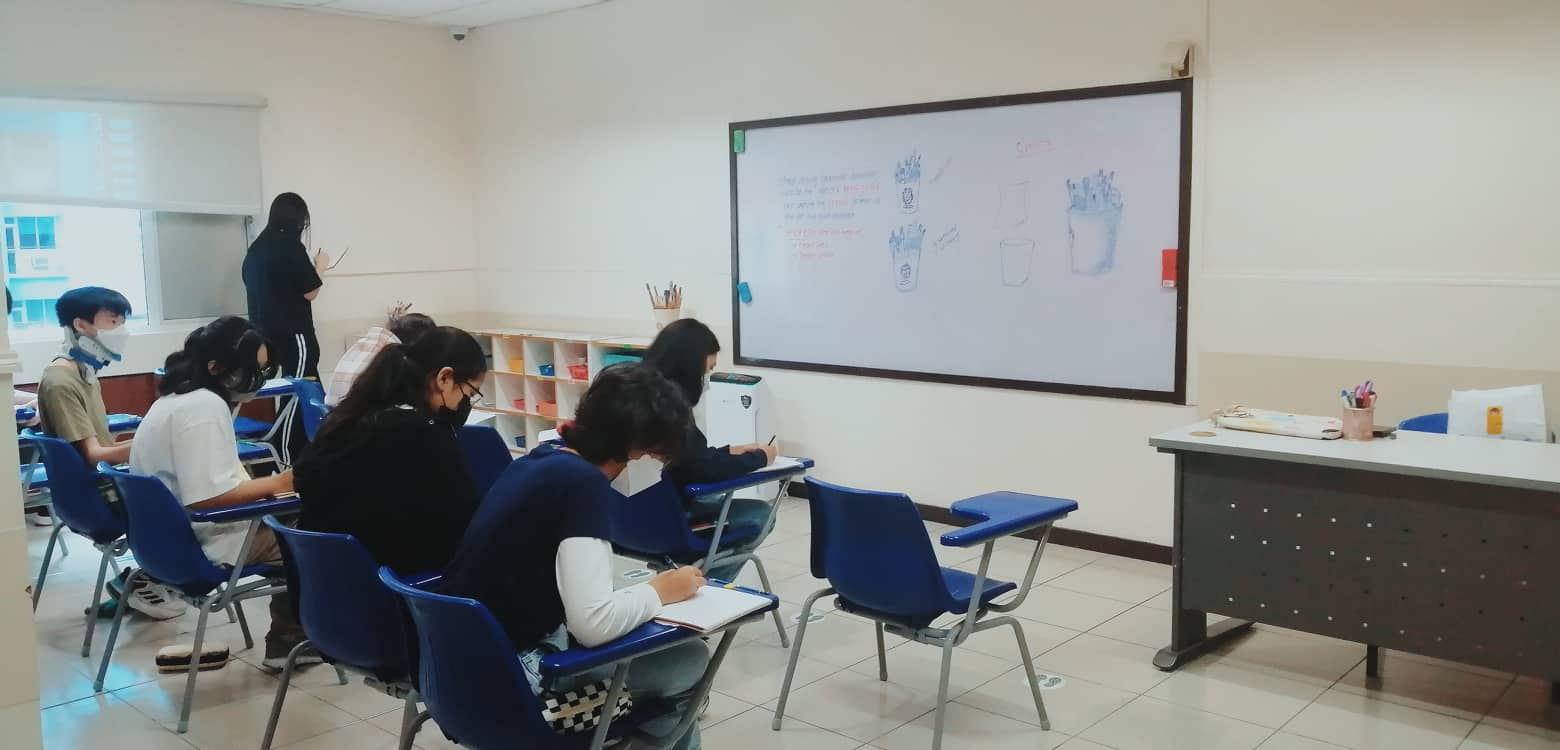 SENIOR HIGH SCHOOL LEVEL (Grades 11 and 12)
The Senior High School Level aims to prepare the students for college / university education. GCF-ICS offers the Academic Track of the Senior High School Curriculum which includes the following strands: Accountancy, Business, and Management (ABM), Humanities and Social Sciences (HUMSS), and Science, Technology, Engineering, and Mathematics (STEM). The subjects in each strand are categorized into core subjects,
applied track subjects, and track-specific subjects. Elective subjects are also offered according to the availability of experts who teach them.
Core subjects are subjects that are taken by all Senior High School students regardless of track and strand. These core subjects are:
Oral Communication
Reading and Writing
Komunikasyon at Pananaliksik sa Wika at Kulturang Filipino
Pagbasa at Pagususuri sa Pananaliksik
Media and Information LIteracy
Contemporary Philippine Arts from the Regions
General Mathematics
Statistics and Probability
Earth and Life Science (Non-STEM)
Earth Science (STEM)
21st Century Literature from the Philippines and the World
Personal Development
Physical Education and Health
Understanding Culture, Society, and Politics
Disaster Readiness and Risk Reduction (STEM)
Physical Science (Non-STEM)
Applied track subjects are output- or performance- based subjects that are taken by all students, regardless of the strand they have chosen. These subjects are taken with the chosen strand in mind for their application. The applied track subjects are:
English for Academic and Professional Purposes
Practical Research 1
Practical Research 2
Filipino sa Piling Larangan
Empowerment Technologies
Entrepreneurship
Inquiries, Investigations, and Immersion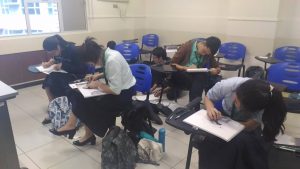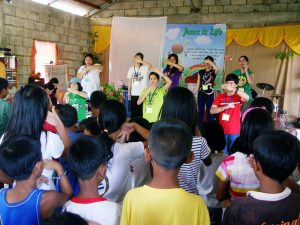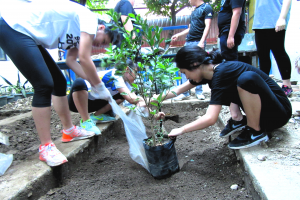 SENIOR HIGH SCHOOL:
Finally, track-specific subjects focus on the specialization that the student has chosen: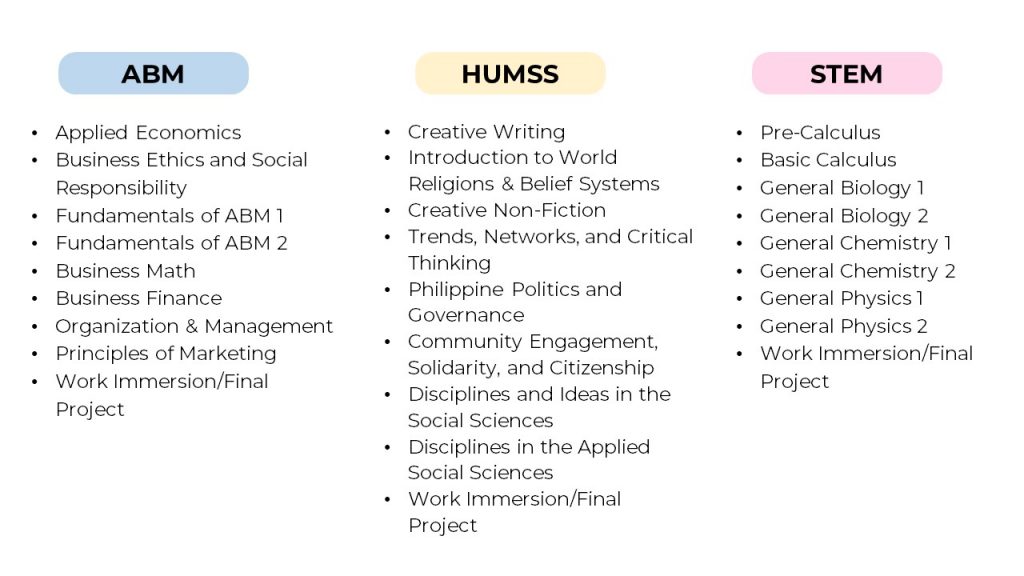 NON-ACADEMIC PROGRAMS
Grade School Department
Non-Academic subjects touch on the learners' artistic, practical living skills, physical, and spiritual development. These subjects are either skills-based, hands-on, or Bible based that aim to hone artistic expression, life skills, sportsmanship, and spiritual growth.
1. Art Education
The Art subject aims to develop the learners' creative and technical skills through various art projects, art forms, and art styles. Each creative projects allows the learner to conceptualize the theme or message behind his/her artwork, as well as explore creative processes to make a unique and expressive output. Art skills are honed from the basic creative skills such as drawing and coloring to crafting projects using unique art materials.
2. Music Education
The Music subject is a performance-based learning that focuses on the knowledge, skills, and values for musical expression. Lessons begin with music appreciation and with the teaching of basic elements using a wide variety of interactive, child-centered activities in the primary level to actual playing of chosen instruments in the intermediate level.
3. Home Economics and Livelihood Education (HELE)
HELE is first taught in Grade 4 and focuses on the three basic needs of man — the home, clothing, and food. It aims to develops practical know-how on food preparation, laundry, sewing, and other essential life skills.
4. Christian Living (CL)
The school believes that spiritual development is part of the child's holistic growth. Christian Living curriculum aligns with the beliefs of the GCF church which are based on the tenets of the Bible. The Chaplain develops developmentally appropriate lessons that aim to fulfill the gospel message in all areas of life and to practically live out these Biblical values.
5. Physical Education
The goal of Physical Education is to instill in learners the importance of fitness and movement and give them knowledge that can be used day-to-day. These are achieved through fitness routines, sport exposure, and other forms of physical activity.
6. Health Education
Health Education is first taught in Grade 3. It focuses on the practical application of health-related knowledge such as nutrition, disease prevention, first aid, among others. The goal is to ensure that learners are able to gain enough knowledge to maintain or improve their personal health and that of others in their communities.
High School Department
Junior High School
Non-academic subjects such as Music, Art, PE, Health, HELE, and CL are also taken by students in Junior High School. These subjects aim to expose the students to different disciplines, aside from those academic in nature, to assist in the holistic development of the student. The contents of these subjects are taught according to the level.
Senior High School
The non-academic subjects of the Senior High School are included in the core subjects.